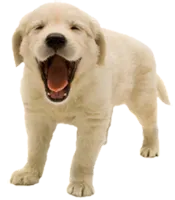 We believe you should expect high quality veterinary care as well as great customer service delivered with a smile! We will do our best to make sure both you and your pet are comfortable, all of your concerns are addressed and you receive valuable information about your pet's health. We will gladly accept the responsibility of partnering with you to provide your pet the best opportunity to live a long and healthy life.
How to prepare for your visit:
Complete the Registration Form which provides identifying information for both you and your pet. You may fill out a printable copy and bring it with you, or you may complete the form prior to your appointment. Please allow an additional 5-10 minutes if you choose to complete the paperwork in the office.
Please bring all medical records, vaccine history and paperwork that you may have for your pet. Medical records from your previous veterinarian can be faxed directly to us at 937-746-2744. Past medical history will help ease the transfer of care to our hospital and provide the veterinarians at Animal Medical Center with important information about your pet's vaccine status and existing medical conditions.
We recommend bringing a fresh stool sample to analyze for intestinal parasites. This test may be indicated for seemingly healthy puppies, kittens and adult animals, as well as sick patients who may be experiencing diarrhea.
The safety of your family and pets is of great importance to us. We ask that all pets be restrained either with a short leash or pet carrier prior to entering the hospital. For your convenience, carriers and leashes are available at the front desk. We will also be happy to assist you from the car to the building. Just call the front desk upon arrival and someone will be right out to help!
For your comfort and accessibility, our facility is equipped with a ramp and handrails for easy entrance into the building. We also offer stretcher assistance for animals that are unable to walk into the hospital. Please let us know how we can assist you and your pet!